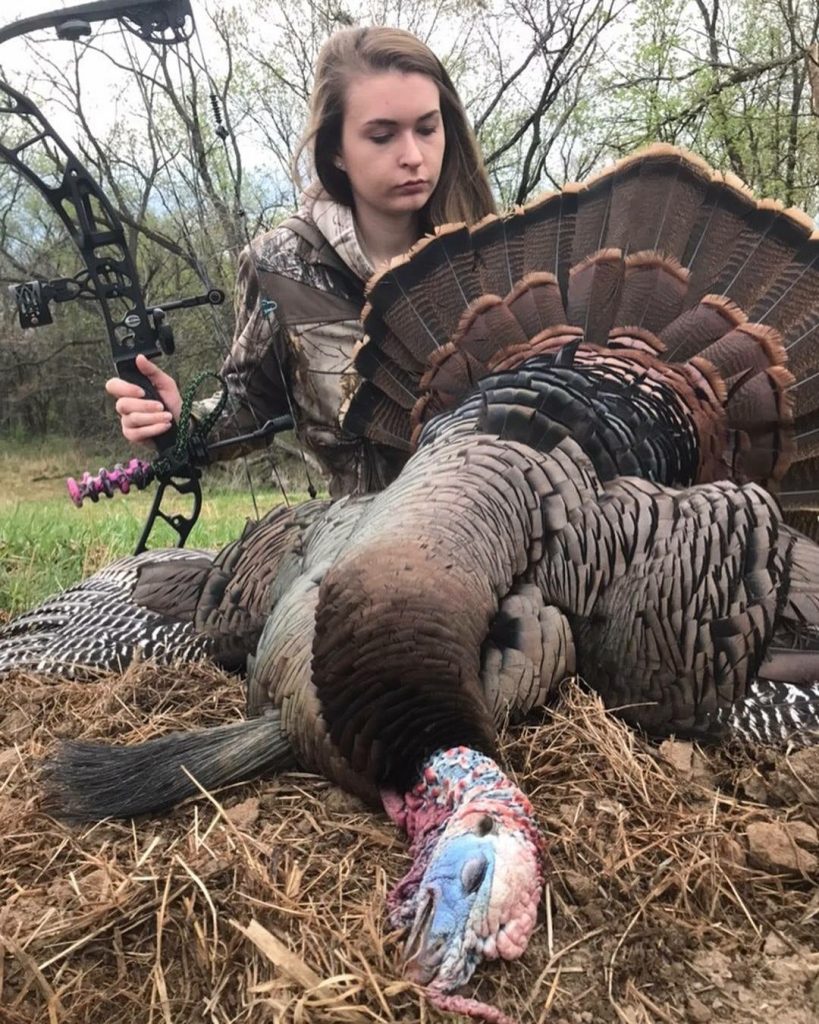 Nothing gets a hunter's heart beating like the sound of a tom turkey's gobble from their early morning perch. Hidden among the thick timber and winding ridges of Illinois is a turkey heaven.
A combination of natural forage, food-plots, and CRP provide our hunting leases with high-quality turkey habitat. Hunting with us, you will find yourself in the middle of the action.
Turkey hunts are fully guided on 9000 acres of prime Illinois habitat. Guides are experienced and have a good knowledge of the property hunted.
Hunts are offered in a 2-day hunt package for $600 with additional days available at $350 per day, Success rates are high! Our Hunt area is Pike & Adams counties
Illinois Lodging cost is $25.00 per night that is included in the hunt price. Extra night lodging is $25.00 per hunter.
The youth spring turkey hunts are free to youth hunters 15 years of age and younger, The only cost is for the Turkey Permit & Lodging on the youth hunts. Offer is only for the Illinois Youth season.
2021 SPRING YOUTH TURKEY HUNT - March 27 & 28 and April 3 & 4, 2021
(The North Zone and South Zone are open concurrently for all four days of the Youth Season)
Hunting Apprentice License $7.50
Licenses are available online at the Illinois DNR by clicking the button below.
All spring turkey hunt reservations require a booking contract and a 50% hunt deposit per hunter at the time of booking.
Remaining hunt balance is due by April 1st.
Hunt deposits are non-refundable, but may be transfered to the following year or to another hunter.
Apprentice License:
The purpose of the Apprentice License Program is to extend limited hunting privileges, in lieu of obtaining a valid hunting license, to persons interested in learning about hunting sports.
The Apprentice Hunter License shall entitle the licensee to hunt on private property while supervised by a validly licensed resident or nonresident hunter who is 21 years of age or older.
The Apprentice Hunter License shall entitle the licensee to hunt on public property while supervised by a validly licensed resident or nonresident who is 21 years of age or older and has a hunter education certificate.
The Apprentice License shall expire on March 31st of the following year.
Purchase of the Hunting Apprentice License can be made online, at your nearest vendor location, or by calling 1-888-673-7648.
Ask about our payment plan.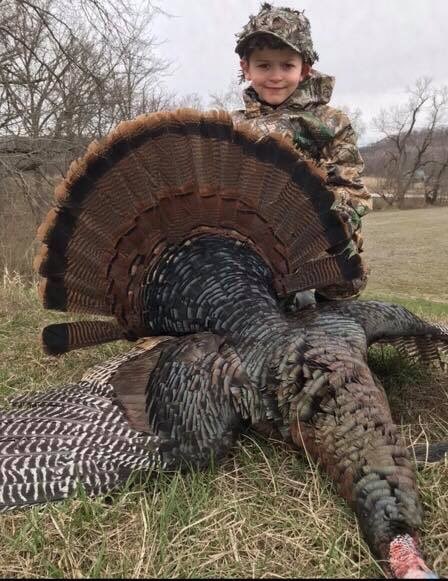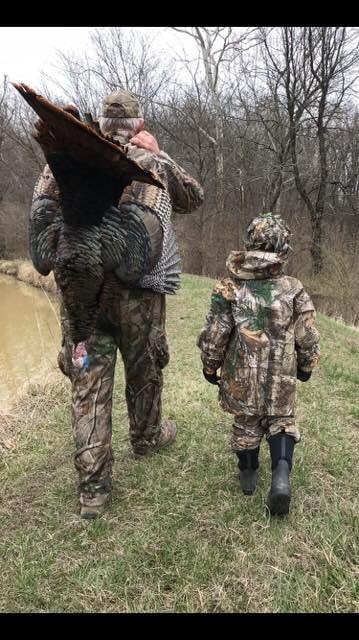 2021 SPRING TURKEY SEASON DATES
Northern Zone: 2021
1st Season: April 12 -April 16
2nd Season:  April 17 -April 22
3rd Season:  April 23 -April 28
4th Season: April 29 -May 5
5th Season: May 6 -May 13
Youth Season Dates: March 27 & 28 and April 3 & 4, 2021
Hunter may only hunt spring turkeys from 1/2 hour before sunrise to 1:00 pm
One tom, jake or bearded hen per permit, maximum of 3 spring permits
Spring Turkey Shotgun and Archery 4/12/21 - 5/13/21
2021 SPRING TURKEY APPLICATION PERIODS
Permit Maximum = 3 (up to 2 permits may be obtained via the Lottery process*) 3rd permit is availblle over the counter.
1st Lottery: Illinois resident hunters may apply for one turkey permit -excludes hunters who have received, or will receive, a landowner spring turkey permit. Application deadline date: December 1, 2020
2nd Lottery: All hunters are eligible to apply for one tur-key permit, but hunters who have not already been awarded a permit will receive preference. Group Hunt applications allowed: Yes
Application deadline date: January 11, 2021
3rd Lottery: All hunters are eligible to apply. Hunters may apply for up to 3 permits during this period, except that no one may exceed the limit of 3 permits in total for spring turkey hunting Application deadline date: February 9, 2021.
Group Hunt applications allowed: NO
OTC Permits: Permits remaining after the Third Lottery Drawing will be availa-ble over the counter from license vendors throughout the state on a first-come, first-served basis beginning March 9, 2021.
HUNTING LICENSE: In addition to your turkey permit, you must have a valid Illinois Hunting, Sportsman's, Youth Hunting/Trapping, or Apprentice License, unless exempt.
HABITAT STAMP: Before any person 18 years of age or older takes, attempts to take, or pursues any species of wildlife protected by the Wildlife Code, except migratory waterfowl, coots, and hand-reared birds on licensed game breeding and hunting preserve areas andstate-controlled pheasant hunting areas, he or she shall first obtain a State Habitat Stamp. Disabled veterans and former prisonersofwar shall not be required to obtain State Habitat Stamps. Any person who obtained a Lifetime License before January 1, 1993, shall not be required to obtain a State Habitat Stamp.
Spring Turkey Shotgun / Archery Permit
Non-Resident $125.00
5 Day hunting license $37.50
Habitat Stamp $5.50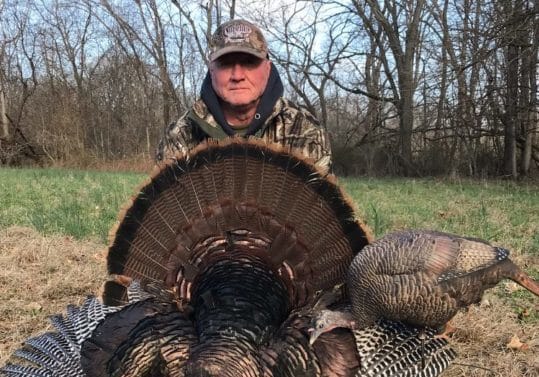 HUNTING REGULATIONS 2021, (Shotgun and Archery)
Bag Limit: One male turkey (gobbler); or one hen with a visible beard per permit, with a maximum of 3 permits. Once you have your limit, you may not further participate with a weapon in any turkey hunting party.
Baiting: Use of live or electronic turkey decoys, recorded calls, dogs or bait (an area is considered as baited during the presence of and for 10 consecutive days following the removal of the bait) is illegal.
Calling: It is illegal for any person to use a turkey call that imitates sounds made by a turkey or to attempt to call a turkey by making these sounds while in the field in the Southern Zone from March 15 through the day before the first turkey season and in the Northern Zone from March 22 through the day before the first turkey season. This prohibition only applies in counties open to spring turkey hunting. This prohibition does not apply to participants in the Youth Turkey Hunt with a valid permit, or their accompanying adult, during that season.
Clothing: No special clothing is required.
Hunting Area: Only that county, counties or special hunt area desig-nated on your permit. Permission to hunt on private property must be obtained from the property owner or tenant. "Property-Only Hunting" permit holders are permitted to hunt on their property ONLY in the counties open for turkey hunting. Special Hunt area permits are not valid anywhere else in the county. County permits are not valid for the Special Hunt areas.
Hunting Hours: One-half hour before sunrise until 1 p.m.
Roost: It is illegal to shoot a wild turkey while it is in a tree BEFORE 7 a.m.
Seasons: A permit is only valid for the one season identified on the permit. A spring wild turkey "Property-Only Hunting" permit is valid for the entire 32 days encompassed by the five seasons in either the Northern or Southern zones (depending upon where your land is located), but allows the taking of only one wild turkey. A hunting rights lease, or other non-agricultural lease, is not valid for a "Property-Only Hunting" permit.
Weapons: The only legal hunting devices to take or attempt to take turkey are:
The only firearm that can be used to hunt wild turkey is a shotgun (20 gauge to 10gauge only, no .410 or 28 gauge allowed). You may not possess any other type of firearm for the purpose of hunting wild turkey.
No. 4 shot is the largest shot that may be used while hunting turkey with a shotgun.
Archery: 1 A long, recurved or compound bow with a minimum pull of 30 pounds at some point within a 28-inch draw. Minimum arrow length is 20 inches
2 Crossbows shall meet all of the following specifications:
a. shall use a bowstring to propel the bolt or arrow and have a mini-mum peak draw weight of 125 pounds.
b .have a minimum length (from butt of stock to front of limbs) of 24 inches.
c. have a working safety
d. be used with fletched bolts or arrows of not less than 14 inches in length (not including point).
Broadheads must be used. Broadheads may have fixed or expandable cutting surfaces, but they must have a minimum 7/8-inch diameter when fully opened. Broadheads with fixed cutting surfaces must be metal or flint-, chert-, or obsidian-knapped; broadheads with expandable cutting surfaces must be metal.
All other bows and arrows, including electronic arrow tracking devices utilizing radio telemetry, are illegal; 3)Shotgun (20 gauge to 10 gauge only, no .410 or .28 gauge allowed); overall minimum length is 26 inches. Minimum barrel length is 18 inches; # 4 shot is the largest shot that may be legal-ly used or possessed while turkey hunting.
Mandatory Turkey Harvest Reporting: Successful hunters must register their harvest by 10 pm on the same calendar day the turkey was harvested by calling toll-free 1-866-452-4325 (1-866-ILCHECK)
IT IS ILLEGAL:
•For any person to hunt wild turkey without possessing a Wild Turkey Hunting Permit.
•For any person to have in their possession while in the field during wild turkey season, any turkey permit issued to another person.
•To buy, sell or offer to buy or sell wild turkeys or any part thereof including their nest or eggs.
For availability on the Illinois spring turkey hunts please contact Edwin Harpole at the email or phone number below.