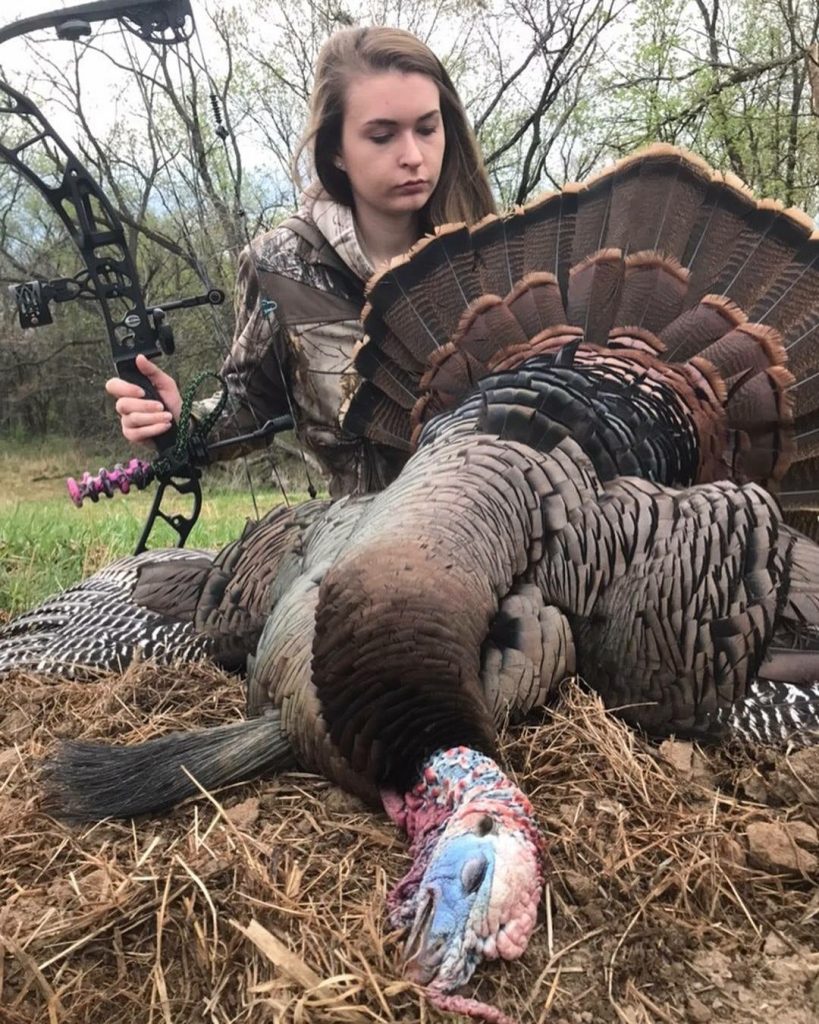 Nothing gets a hunter's heart beating like the sound of a tom turkey's gobble from their early morning perch. Hidden among the thick timber and winding ridges of Illinois is a turkey heaven.
A combination of natural forage, food-plots, and CRP provide our hunting leases with high-quality turkey habitat. Hunting with us, you will find yourself in the middle of the action.
Turkey hunts are fully guided on 9000 acres of prime Illinois habitat. Guides are experienced and have a good knowledge of the property hunted.
Hunts are offered in a 2-day hunt package for $600 with additional days available at $350 per day, Success rates are high! Our Hunt area is Pike & Adams counties
Illinois Lodging cost is $25.00 per night that is included in the hunt price. Extra night lodging is $25.00 per hunter.
The youth spring turkey hunts are free to youth hunters 15 years of age and younger, The only cost is for the Turkey Permit & Lodging on the youth hunts. Offer is only for the Illinois Youth season.
Youth Season Dates: March 30 & 31 and April 6 & 7, 2019
Licenses are available online at the Illinois DNR by clicking the button below.
All spring turkey hunt reservations require a booking contract and a 50% hunt deposit per hunter at the time of booking.
Remaining hunt balance is due by April 1st.
Hunt deposits are non-refundable, but may be transfered to the following year or to another hunter.
Ask about our payment plan.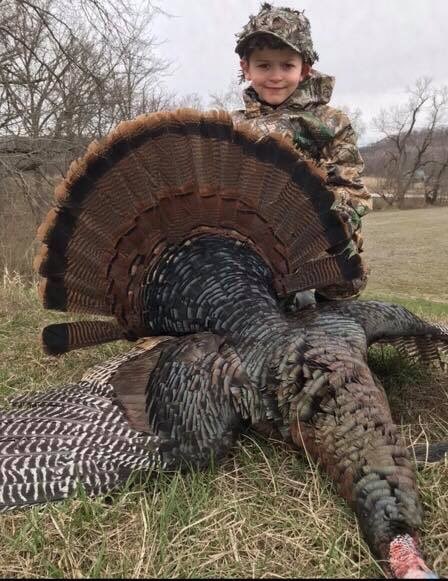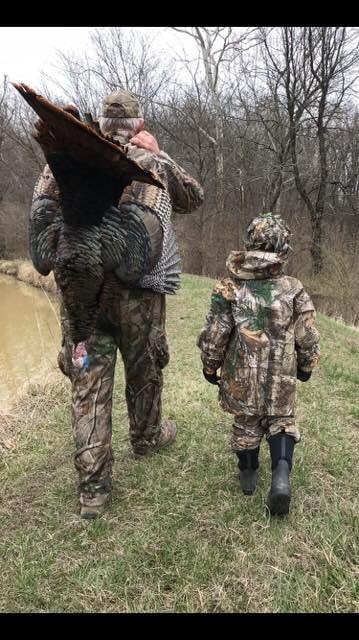 2019 SPRING TURKEY SEASON DATES
Northern Zone:
1st Season:  Mon. April 15 - Fri. April 19
2nd Season:  Sat. April 20 - Thurs. April 25
3rd Season:  Fri. April 26 - Wed. May 1
4th Season:  Thurs. May 2 - Wed. May 8
5th Season:  Thurs. May 9 - Thurs. May 16
Youth Season Dates: March 30 & 31 and April 6 & 7, 2019
Hunter may only hunt spring turkeys from 1/2 hour before sunrise to 1:00 pm
One tom, jake or bearded hen per permit, maximum of 3 spring permits
Spring Turkey Shotgun and Archery 4/15 - 5/16/19
2019 SPRING TURKEY APPLICATION PERIODS
Permit Maximum = 3 (up to 2 permits may be obtained via the Lottery process*)
1st Lottery: Illinois residents ONLY (customers may only submit one application in this Lottery)
Applications begin - October 9, 2018
Applications end - December 1, 2018
2nd Lottery:  Nonresidents and those Illinois residents who did not apply/were not successful in 1st Lottery (customers may only submit one application in this Lottery)
Applications begin - December 4, 2018
Applications end - January 11, 2019
3rd Lottery:  Illinois residents and nonresidents (customers who have been issued a permit in the 1st or 2nd Lottery may submit one application in this Lottery).  Customers who have not been issued any permits may submit up to two applications in this Lottery).
Applications begin - January 12, 2019
Applications end - February 11, 2019
OTC Permits:  Remaining County-Issued Spring Turkey permits will be sold OTC at local vendors from 3/12/19 at 8 a.m. first come-first serve. No one may exceed the 3-permit maximum. Spring Turkey hunting (Youth, Landowner, and Lottery-Issued permits count toward the 3 permit maximum.
Spring Turkey Shotgun / Archery Permit
Non-Resident $125.00
5 Day hunting license $37.50
Habitat Stamp $5.50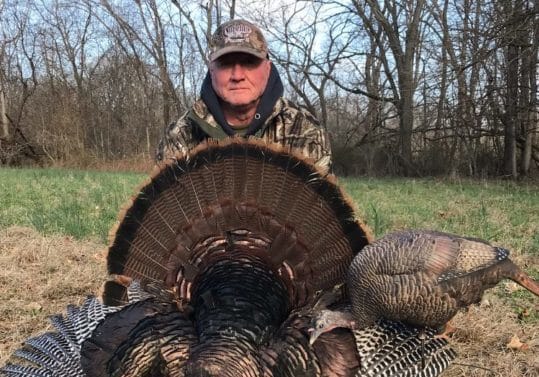 • The only firearm that can be used to hunt wild turkey is a shotgun (20 gauge to 10gauge only, no .410 or 28 gauge allowed). You may not possess any other type offirearm for the purpose of hunting wild turkey.
•No. 4 shot is the largest shot that may be used while hunting turkey with a shotgun.
• Legal vertical bow types are long, recurved or compound bows with a minimum pull of 30 pounds at some point within a 28-inch draw.Minimum arrow length for allvertical bow types is 20 inches (not including point)
•To use a crossbow it must have a minimum draw weight of 125 pounds; minimumoverall length of 24 inches; a working safety; and used with fletched bolts or arrows of not less than 14 inches (not including point).
• Broadheads must be used for archery turkey hunting. Broadheads may have fixed (must be metal or flint-, chert or obsidian-knapped) or expandable (must be metal)cutting surfaces, but they must have a minimum 7/8 inch diameter when fully opened.
• All other bows and arrows, including electronic arrow-tracking systems utilizing radio-telemetry, are illegal.
• It is unlawful to have any firearm in possession while hunting turkey with any type of bow and arrow (but see Statewide Regulations on concealed carry handguns).
Clothing Requirements • Hunters may wear all camouflage clothing during the spring turkey season. No blaze orange or blaze pink clothing is required, but hunters are encouraged to wear at least a blaze orange or blaze pink hat or vest when not actively hunting to maximize visibility to other hunters.
Turkeys Legal to Harvest• Only toms and jakes (males) or a hen with a visible beard are legal to harvest duringthe spring season.
For availability on the Illinois spring turkey hunts please contact Edwin Harpole at the email or phone number below.