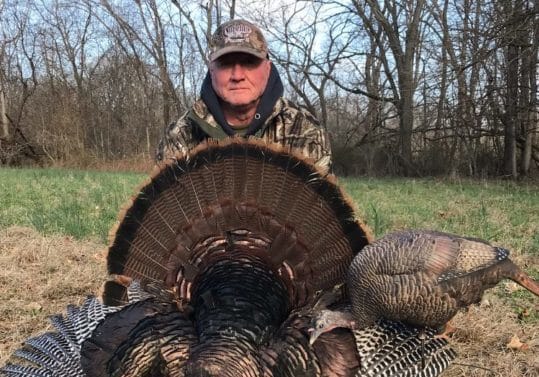 There is nothing quite like hunting turkeys in Hepler, Kansas. Due to the amount of cattle and grain farming in the area, turkeys are abundant and flock to our hunting leases. In late winter and early spring, our guides begin to pattern the turkeys. By the time turkey season comes, we know the daily patterns of each flock. This makes for eventful hunting as we know exactly where the birds are and where they are likely to go.
Xtreme Hunts offers Spring Turkey Hunts on 15,000 acres of prime habitat, located in Turkey Management Unit 6 in Crawford and Bourbon counties. Southeast Kansas.
The Kansas turkey population has exploded over the last several years in southeast Kansas. This assures your Kansas turkey hunt will be action packed. We only allow a few groups per season to insure opportunity at success to all of our turkey hunters. We feel the most successful way to hunt our eastern turkeys is to set up and call them in to you.
In Kansas the turkeys start their breeding season in mid to late March and continue into late April and we will use that to our advantage during the hunt.
Southeast Kansas Turkey Hunt Strategy
Our hunters have had great success with Kansas turkey hunts and with the trophy whitetail deer hunts. We start your hunt with check in at the lodge and a warm smile from Marty, the lodge owner. She will never let you go hungry that's for sure. Your hunt starts with scouting to check out your turkey hunting property and watch a few birds. After the scouting trip, you can set up a hunting strategy for the next day with your guide. Don't worry if you are unsuccessful the first morning out because you are allowed to hunt all day in Kansas which lets you set up on the birds coming back to roost. The all-day hunting option greatly increases your success rate. The guides can assist you with harvest care of your turkey. Join us for a great turkey hunting experience with one of the best turkey hunting outfitters southeast Kansas has to offer!
Lodging
Our Kansas lodge is a 125 year old historic Ice House remodeled into a spacious and beautiful hunting lodge. Trust me if you bring your spouse as a non-hunting guest she will not want to go home. The lodge is set in a traditional Kansas Western style theme providing all the amenity's of home along with that Kansas hospitality from Marti Kiser, lodge owner and your host, don't worry about the food, Ms. Marti will make sure you eat western style cooking and have enough food for even the biggest appetite. A fully equipped kitchen is on site along with a washer and dryer for your convenience and a barbecue grill for grilling some turkey strips.
Comforts of home
We offer 2 hunters to a room with each room having there own personal facility's, Shower, toilet and vanity, each room is equipped with your own 24″ flat screen with Direct TV and WI-Fi for the business man or the hunter that just wants a few minutes of personal time to surf the internet. If its privacy you want, we got you covered. Please take a minute and view the lodge photo's at the link below.
Ladies only Spring Turkey Hunt
Ladies only turkey hunt. A total of 4 lady hunters in camp at one time, so grab your girlfriend or girlfriends and come hunt some Kansas long beards.
Grab your girlfriends and let's put some long beards down
The Ladies Hunt: There will only be women on this hunt, groups of 4-6 ladies or pairs of 2 women with a total of 4 in camp.
Ladies Turkey Hunt References:
Courtney Riser Odgen 318-237-3410 LA,
Cara Holland 501-920-5086 AR,
Amelia Farrar 443-962-2244 VA,
Laurel Monaghan 484-288-9581 MT,
Turkey tags are good for the entire spring season 4/9 to 5/31 Unsuccessful hunters may come back at a later date to try and fill there turkey permit for $200.00 a day with meals and lodging. Providing there is available openings
Note from the Outfitter
Hunters success depends on 3 key factors when turkey hunting Kansas with Xtreme Hunts, If you religiously practice the following 3 keys, success will be more favorable.
Listen to your guide.
Patients kills turkeys – Do not over call or run & gun the turkeys.
Remember that turkeys do not have a time schedule, leave enough time in your hunt to put your tag on his leg.
Important:  When applying for a spring turkey permit/tag please make sure you apply for permits in turkey management unit #6.
Turkey permits are now valid the day they are purchase from a license vendor in Kansas
There is a $200.00 penalty fee for any Jake's that are killed
All hunts include meals and lodging
Kansas Hunters Check in Address
105 West 3rd Street
Hepler, KS 66746
Marti Kiser
Lodge Owner / Manager
Kansas Turkey Hunt Reference's
Michael Gordon 870-243-4737
O.C Broome 601-606-5820
Clay Tassin 225-718-3435
Greg Hartman 501-733-5390
John Jennings 870-351-7684
Cy DaQuila 225-718-0506
Wayne Bozeman 334-549-3425
Tony Harris 501-626-2969
Keith Thomas 334-612-1454
John Carothers 334-303-8098
John Wells 317-217-9780
Clay Rougeau 501-428-8868
Ryan Breasbois 517-404-7475
Troy Larson 765-299-6849
Brian Rowan 479-806-3138
Fritz Jacobson 619-997-8032
Troy Wymer 501-416-4181
Randy Barry 619-981-3069
Donald Rawls 601-441-1483
Ted Burnett 479-871-0567
Rich Boullie 501-626-2403
Lucas Rougeau 501-328-7955
Dave Pekin 619-997-4112
Bobby Barrett 334-399-5383
Vance Dietz 770-316-7948
Ted Thomas 501-908-1801
Larry Willett 309-335-7030
Denise Drenth 269-217-0783
Spencer Thomas 501-908-1374
Dan Schurg 307-332-7448
Steve Johnson 562-201-1012
Todd Thomas 501-786-2305
Names and phone numbers of who to contact